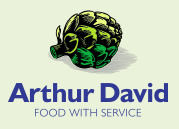 Arthur David Food with Service is a large, established, wholesale food supplier operating across the South West employing a large and diverse workforce and operating a substantial fleet of delivery vans.  They have grown rapidly over the past 5 years but have never lost sight of the importance of providing a safe working environment for their employees.
A family run business, they see their employees, customers and suppliers as part of the wide Arthur David family and are committed to not simply complying with legislation but ensuring good health and safety practice is fully engrained in their culture.  Holding BRC Grade A Global Certification demonstrates their commitment to delivering high standards in quality, safety and operational processes.
They were looking to work with a health and safety partner that could deliver holistic support to both the management team and the rest of their employees whilst adapting the services they provide to meet the changing needs of the business.
Our Solution
Over many years we have delivered a range of consultancy, training and support services to the team at Arthur David to meet their needs at different phases of their business lifecycle.
Initial support was focused around ensuring they were fully compliant with legislation and that staff were correctly trained.  As their business has changed we have helped them to ensure the business retains its focus on health and safety through a process of regular audit and review.
Development of their staff is a key priority for the company and we have been part of the ongoing training process from induction courses for new members to ongoing refresher training via an extensive training program.
We also attend regular Health and Safety briefings they run on site to enable all members of the team to take ownership over, and engage with the management team on, health and safety practices.
Feedback from Arthur David
"As a fast growing business we are continually investing in new people, technology and reviewing our processes.  It is critical to us therefore that health and safety remains a key focus for the business at every level.
Sureteam has over the years provided us with practical advice and support which they have adapted to suit our needs.  It is great to know that they are available to support anyone within the business that might need their help. 
We see our employees as family and investing in their safety, wellbeing and development is important to us.  It is about more than just being compliant but building a culture that understands the importance of health and safety and that can implement it in a practical way that helps the business to operate successfully and safely. Sureteam help us achieve this."
Jon Evans – Managing Director